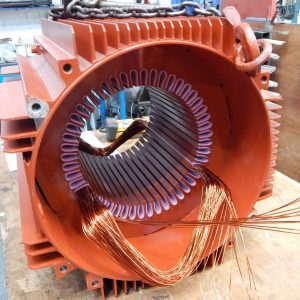 Knowlton & Newman have three workshops in the South which carry out maintenance, repairs and rewinds to both AC and DC electric motors. This is undertaken 24 hours per day, 7 days per week. Every motor, on receipt is dismantled, inspected, tested and all faults recorded. Once repaired, the motor is tested, spray painted and guaranteed for one full year.
The motor rewinds are undertaken to AEMT standards and we are accredited as being compliant to repair motors which are in use in hazardous areas.
Modern insulation materials are used to class F and H as well as for arduous environments. New, quality bearings and seals are fitted to every motor.
We are mindful of repair costs versus replace costs and work transparently with our customers to ensure that we are given them the best option (repair or replace) taking into account the time scales required by the customer and the received condition of the motor.
In our three branches we stock a range of new motors which will minimise downtime. We keep both IE2 and IE3 motors according to the energy efficiency requirements of our customers.